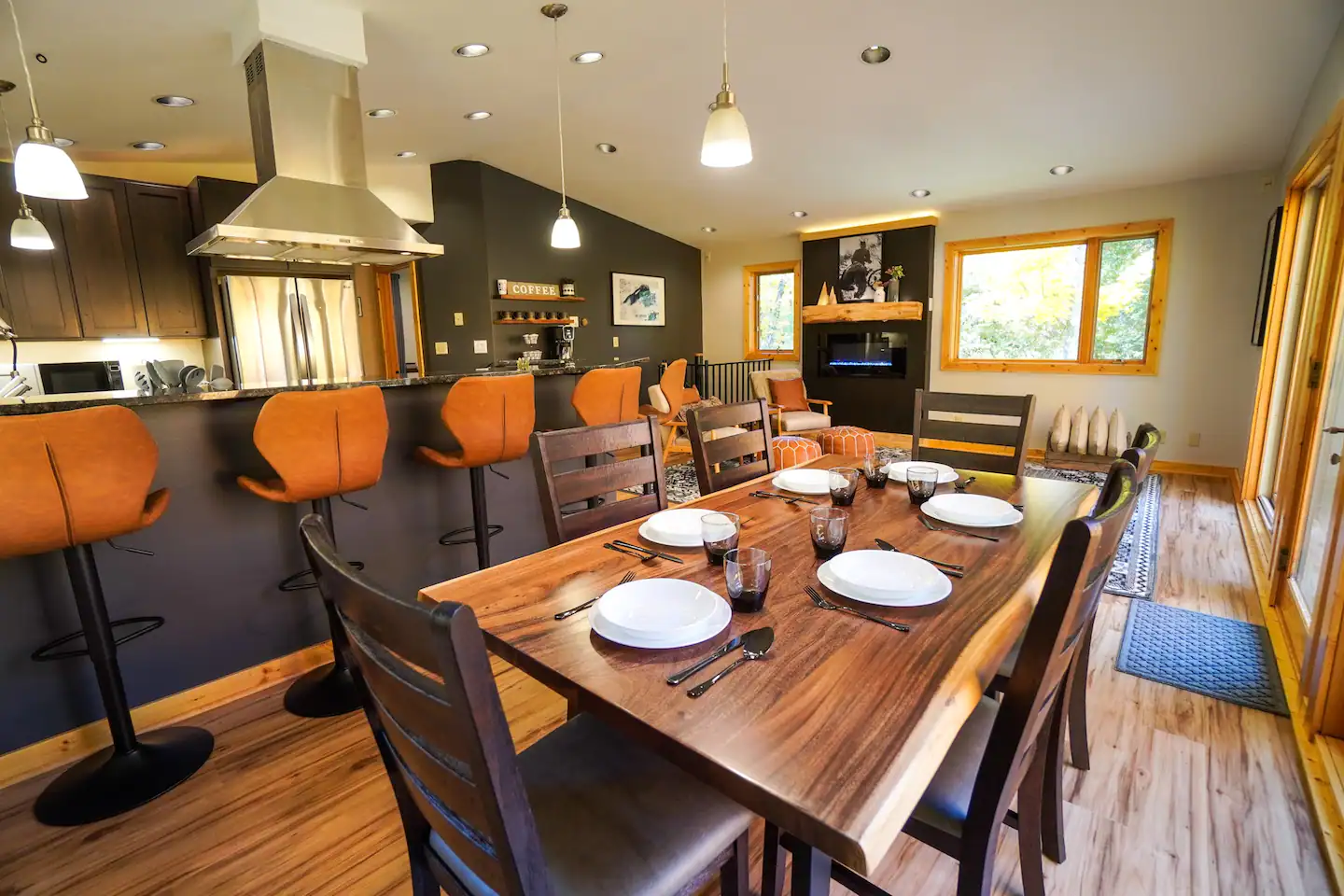 Calculating the cost of furnishing your new Airbnb will depend on a number of factors such as the size of the space, the style and quality of furniture you choose, and the location of your property. Here are some steps to help you figure out the cost of furnishing your Airbnb:
Determine the size of your space: The first step is to determine the size of your Airbnb. This will help you decide how much furniture you need and how much space you have to work with.
Make a list of necessary furniture: Make a list of all the furniture you need to furnish your Airbnb, including beds, dressers, nightstands, sofas, chairs, tables, and lamps. I have a spreadsheet to help you do this, but more on that later.
Research furniture prices: Do some research to find out the average cost of the furniture you need. Check out furniture stores, online retailers, and secondhand furniture shops to get an idea of the price range.
Set a budget: Determine how much you are willing to spend on furnishing your Airbnb. This will help you prioritize your purchases and make sure you don't overspend. You may wish to understand on some items so you can overspend on items you think are really worth it.
Factor in additional costs: Don't forget to factor in additional costs such as delivery fees, assembly fees, and taxes. We bought a cabin in a remote area, some items were not deliverable to the address so we had to get them shipped to our home and then bring them in ourselves.
Consider the location of your property: If your Airbnb is located in a touristy area, you may need to invest in high-quality, stylish furniture to attract guests. If your Airbnb is in a more rural or less popular area, you may be able to get away with more basic furniture. Consider if you want your furniture & decor to be part of your competitive edge against other options in your local market.
Start shopping: Once you have a good idea of what you need and how much you are willing to spend, start shopping around for furniture. Be sure to compare prices and quality before making any purchases. We opted for higher quality in major pieces. Which for us meant no Ikea furniture, frames and decor, sure, but not for any large items, like furniture or statement pieces.
Overall, furnishing your Airbnb can be a significant investment (Thousands of dollars), but it's an important part of creating a comfortable and inviting space for your guests. By doing your research, setting a budget, and shopping smart, you can create a beautiful space without breaking the bank.
One of the best compliments I ever received from a guest:
"…will definitely be leaving good reviews. Our stay was great and I even snapped some pictures of the decor for some inspiration for our home. Well done to whoever designed and decorated! Thanks again!"
That comment made all the hard work worth it to me. 
A Rule of Thumb – Cost Per Square Foot
If you're looking for a rough idea you can use some "back-of-the-napkin" math to set your budget. A simple rule of thumb is to use a cost-per-square-foot rule of thumb.
Let's say you have a 1,500 square foot house. If want to spend in the range of $15-$20 per square foot, that puts you in the range of $22,500 to $30,000 to furnish your short-term rental.
The drawback, this rule of thumb doesn't tell us much about the house. Is it 1 bedroom or is it 4? 1 bathroom or 3? Is there a large deck and patio space that needs to be furnished or does the home lack outdoor living areas? That's why it's a rule of thumb, all thumbs vary so it is not exact, but it can be a helpful start.
Let's put it to the test. I bought a cabin that has 1,532 finished square feet. (it also has an outdoor deck, think, more living area that we need to furnish).
We actually spent $17,285.94 on furnishing the property. The math pans out to $11.28 per square foot.
It's important to give you some more figures in that number:
We aimed for higher quality items for most things. We bought things that are way nicer than what we have in our own house.
As a carpenter, I built much of the furniture myself. Things like end-tables, nightstands, desks, coat racks, benches, a coffee bar, and the dining room table.  So our cost, would have been much higher if we had to buy those items. Instead, I paid for the cost of materials and sacrificed my own time.
We added minimal outdoor furniture as part of our initial cash outlay. We launched the property in mid-October, no sense in buying some nice patio furniture just to store inside for the next 6 months of a snowy winter. We'll buy that in the spring when its more likely to be used by guests, so that cost is not in the figure above.
Property Improvement Costs
Also, it's important to know we are talking about furnishings, property improvements are not counted in this number. That is things like repairs and upgrades we made to the physical property. Painting, staining the deck, adding site-built drainage systems, running new electrical, adding a fireplace, replacing dog-flavored-carpet, and countless other small items.
I do plan to share a Calculator for estimating property improvement costs too.
Holding Costs
You will also have holding costs. Holding costs are the cost to "hold" or own the property while you aren't ready to rent it yet and make an income on it. The bills still need to be paid and that's your job. The HOA dues, electric and/or gas utilities, water bill, trash service, internet, and even software products you might use for running your Airbnb/business.  And don't forget that mortgage payment, homeowners insurance, and county taxes.
 A Tool To Help You – A Free Cost Estimator
I made a spreadsheet to calculate these things, I turned it into a template for you to use. It's a Google sheet, so you'll need to save your own copy and then edit that copy.
I hope it's a helpful starting point for estimating the costs to furnish your Airbnb. You can customize it to fit your scenario, by adding more line items, adjusting the quantity or price of items, and linking to them so when you're ready to start buying you have your whole shopping list ready. It's no small task, you are essentially outfitting an entire household. That's a lot of shopping so it's best to stay very organized.
If I were more of a hype-man I might say something like:
"Are you tired of playing the guessing game when it comes to furnishing your Airbnb listing? Don't worry, we've got you covered with our Airbnb furnishing cost calculator spreadsheet. It's like having a psychic interior designer in a downloadable file!

No more stressing about how much it will cost to make your guests feel at home. Our calculator takes into account everything from cozy furniture to trendy decor, so you can get an accurate estimate without having to consult the stars.

Plus, our spreadsheet is fully customizable, so you can add your own unique items like that vintage lamp from your grandma's attic or that quirky painting from your last vacation. Who says you can't mix leopard print with polka dots?

With our Airbnb furnishing cost calculator spreadsheet, you can be the host with the most, without breaking the bank. So go ahead, download it now and let the good vibes roll in (and the cash too, of course)."
Here's the Airbnb Furnishing Calculator (By Room) *
Like other things on this site it will have some affiliate links. That means by buying the recommended items I may receive a small commission on those items. This occurs at no additional cost to you and helps me underwrite the cost of producing these resources. and others. Thanks for your support. Mostly everything you'll find linked are items we have used (or similar where exact products were no longer available) to furnish our own Airbnbs.
*I plan to update this from time to time. It's a work in progress and I have some improvements planned, so you may want to check back here for the latest version.